Superformance Match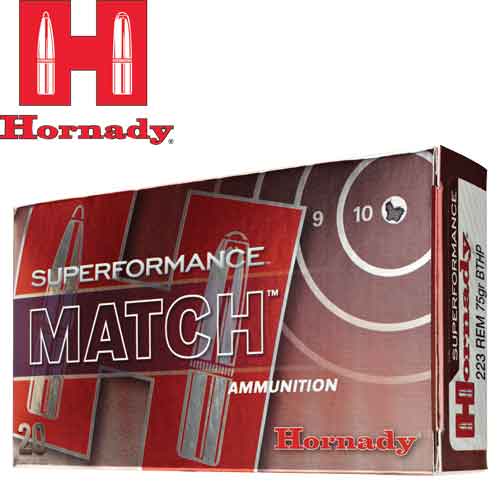 Supercharge your match rifle!
It is FAST! It is ACCURATE! It is VERSATILE! Superformance Match Ammunition achieves muzzle velocities of 100 – 200 fps faster than ANY conventional ammunition. Amazing ammunition performance starts with outstanding bullets, and Hornady AMAX and Boattail Hollow Point Match bullets, now featuring revolutionary new AMP® (Advanced Manufacturing Process) bullet jackets, raise the standard.
Topped with the finest bullets, Superformance Match ammunition marries the very best cartridge cases with extremely stable propellants that are custom blended for each individual load to provide TRUE ammunition performance enhancement. Highpower competitors, as well as law enforcement and military shooters and snipers will all benefit from the Superformance Match advantage – higher muzzle velocity, phenomenal accuracy, increased range and reduced wind drift. Superformance Match - the limits have been broken!
Leader of equipment and hunting material
At Londero Sports / Arc-inter, we try to equip hunters with all the necessary equipment, from hunting clothing, through guns to the latest accessories. Whether it's for bow, crossbow or rifle hunting.
Subscribe to our newsletter
Your subscription could not be saved. Please try again.
Your subscription has been successful.
This form is protected by reCAPTCHA and the Google Privacy Policy and Terms of Service apply.
All your need in hunting game
We provide our customers with the genuine products, knowledge, experience and services that define and support the distinctive outdoor lifestyle, through extraordinary personal attention to customer satisfaction.
Company

At Londero Sports / Arc-inter, we try to equip hunters with all the necessary equipment, from hunting clothing, through guns to the latest accessories. Whether it's for bow, crossbow or rifle hunting. As a leader of equipment and hunting material, our mission is to provide all your needs in hunting matter, ensuring quality, durability and low cost.

SERVICES, PUBLICATIONS & COMMUNITY.

WE ARE HERE TO HELP.

MANAGE YOUR ACCOUNT.

CONTACT US